Gwen's Reviews of Recently Read Graphic Novels
Some quick reviews of recent graphic novels reads! Enjoy!
Nimona by Noelle Stevenson
Description: The graphic novel debut from rising star Noelle Stevenson, based on her beloved and critically acclaimed web comic, which Slate awarded its Cartoonist Studio Prize, calling it "a deadpan epic."
Nemeses! Dragons! Science! Symbolism! All these and more await in this brilliantly subversive, sharply irreverent epic from Noelle Stevenson. Featuring an exclusive epilogue not seen in the web comic, along with bonus conceptual sketches and revised pages throughout, this gorgeous full-color graphic novel is perfect for the legions of fans of the web comic and is sure to win Noelle many new ones.
Nimona is an impulsive young shapeshifter with a knack for villainy. Lord Ballister Blackheart is a villain with a vendetta. As sidekick and supervillain, Nimona and Lord Blackheart are about to wreak some serious havoc. Their mission: prove to the kingdom that Sir Ambrosius Goldenloin and his buddies at the Institution of Law Enforcement and Heroics aren't the heroes everyone thinks they are.
But as small acts of mischief escalate into a vicious battle, Lord Blackheart realizes that Nimona's powers are as murky and mysterious as her past. And her unpredictable wild side might be more dangerous than he is willing to admit.
Rating: 5 stars!
Review: I absolutely loved this book! The first few pages grab the reader immediately, with great humor and two very unique characters. Although the beginning of the graphic novel is very light and funny (don't get me wrong– there is lots of murder and explosion, but it is presented lightly), it slowly gets darker and more serious. At first I'd have recommended it to middle grade readers, but by the end it was clear it was very much meant for young adults. Overall, the illustration was wonderful, the characters were witty, relatable, and complex, and the story was engaging and highly entertaining.
Excerpt:
In Real Life by Cory Doctorow and Jen Wang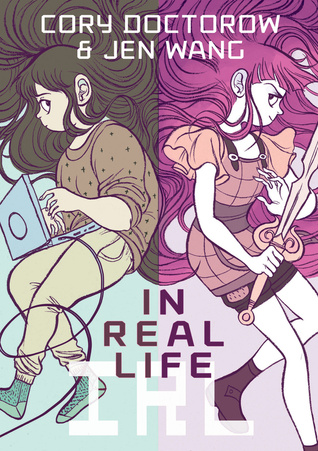 Description: Anda loves Coarsegold Online, the massively-multiplayer role-playing game where she spends most of her free time. It's a place where she can be a leader, a fighter, a hero. It's a place where she can meet people from all over the world, and make friends.
But things become a lot more complicated when Anda befriends a gold farmer–a poor Chinese kid whose avatar in the game illegally collects valuable objects and then sells them to players from developed countries with money to burn. This behavior is strictly against the rules in Coarsegold, but Anda soon comes to realize that questions of right and wrong are a lot less straightforward when a real person's real livelihood is at stake.
From acclaimed teen author (Little Brother, For the Win) and Boing Boing editor Cory Doctorow and Koko Be Good creator Jen Wang, In Real Life is a perceptive and high-stakes look at adolescence, gaming, poverty, and culture clash.
Rating: 2 stars
Review: This graphic novel I did not enjoy as much. However, this very well could be because I've never played a virtual reality computer game in my life, so I didn't really understand a lot of the lingo or the differences between characters and real people. I do think there is a way to write a book about a subject not everyone is familiar with and still make it enjoyable for a wide audience though. The illustrations were wonderful, but I found the story rather lacking. Not a book I'd recommend.
Snow White: A Graphic Novel by Matt Phelan
Description: Award-winning graphic novelist Matt Phelan delivers a darkly stylized noir Snow White set against the backdrop of Depression-era Manhattan.
The scene: New York City, 1928. The dazzling lights cast shadows that grow ever darker as the glitzy prosperity of the Roaring Twenties screeches to a halt. Enter a cast of familiar characters: a young girl, Samantha White, returning after being sent away by her cruel stepmother, the Queen of the Follies, years earlier; her father, the King of Wall Street, who survives the stock market crash only to suffer a strange and sudden death; seven street urchins, brave protectors for a girl as pure as snow; and a mysterious stock ticker that holds the stepmother in its thrall, churning out ticker tape imprinted with the wicked words "Another . . . More Beautiful . . . KILL." In a moody, cinematic new telling of a beloved fairy tale, extraordinary graphic novelist Matt Phelan captures the essence of classic film noir on the page—and draws a striking distinction between good and evil.
Rating: 4 stars
Review: By far the best part about this book was the clever ways Matt Phelan adapted the well-known fairy tale Snow White to New York City in 1928. As I was reading this, I kept exclaiming as new parts of the story were revealed, and the connections between the original tale and this ingenious adaptation were made clear. The illustrations are also gorgeous, and if you haven't read it yet, I highly recommend Matt Phelan's A Storm in the Barn and Around the World as well.
Want more reviews of graphic novels? Here is Gwen & Kate's Library's list of favorite graphic novels, here a review of the first two books in Jeff Smith's Bone series, here a review of Raina Telgemeier's Sisters, here Gwen's thoughts on Blankets by Craig Thompson, and here a review of American Born Chinese by Gene Luen Yang!