Gwen's Thoughts on Ash by Malinda Lo
This tale is a beautiful, extraordinarily written retelling and rearrangement of the fairy tale Cinderella.
Series: None
Genres: Young Adult, Fantasy, Retold Fairy Tales (Cinderella), LGBT
Format: Hardcover
Rating: 4.5 stars
Description:
Cinderella retold: In the wake of her father's death, Ash is left at the mercy of her cruel stepmother. Consumed with grief, her only joy comes by the light of the dying hearth fire, rereading the fairy tales her mother once told her. In her dreams, someday the fairies will steal her away, as they are said to do. When she meets the dark and dangerous fairy Sidhean, she believes that her wish may be granted.
The day that Ash meets Kaisa, the King's Huntress, her heart begins to change. Instead of chasing fairies, Ash learns to hunt with Kaisa. Though their friendship is as delicate as a new bloom, it reawakens Ash's capacity for love-and her desire to live. But Sidhean has already claimed Ash for his own, and she must make a choice between fairy tale dreams and true love.
Entrancing, empowering, and romantic, Ash is about the connection between life and love, and solitude and death, where transformation can come from even the deepest grief.
Review:
This tale is a beautiful, extraordinarily written retelling and rearrangement of the fairy tale Cinderella. And to make it absolutely plainly clear to all the "shocked" (God forbid Cinderella fall in love with someone other than the prince and not be waited on by magical mice!) readers on Goodreads who did not pick up on this fact (either from the description on the inside cover or the excerpt from the back of the book), yes, this Cinderella is a lesbian. Or to be more specific, she's bisexual. Which is a perfectly okay thing for an author to write about in her entirely original retelling of a tale that did not originate with Disney. Just had to get that all out of the way.
As I was reading this short but very sweet novel, I very much understood the connection between Ash and Of Fire and Stars by Audrey Coulthurst. Malinda Lo assisted Audrey in the writing of her debut novel, and I think it shows (not a bad thing!). Both the plots and the characters in the two books have many parallels: they both feature one shy yet very brave heroine with magic on her side and one more typically "tough" warrior woman with an affinity for horses. In both books the "issue" is not that they are both women but that there's a boy in the way (previously promised to one of the girls). Boys — always getting in the way!
One way in which the two books are distinctly different is in their writing style. While Of Fire and Stars is written in the typical "YA fiction" style popular today (easy to read, more focus on plot and dialogue than description, and often in first person point of view), Ash is written in the more traditional fairy story style of Sharon Shinn and Robin McKinley. The writing is often considered more difficult to read, and it is certainly more mature in the subtlety of its magic. It reads more like literature, often with less action and more description. Although it doesn't seem to grab the modern YA audience as easily, I think these books are just as wonderful to behold as a fun, futuristic retelling like Cinder by Marissa Meyer. If you agree at all, below I have listed a series of titles similar to Ash that I would recommend if you enjoyed this read, or vice versa.
Similar Titles:
Keturah and Lord Death by Martine Leavitt
Wildwood Dancing by Juliet Mariller
Summers at Castle Auburn by Sharon Shinn
Star Crossed by Elizabeth C. Bunce
The Hero and the Crown by Robin McKinley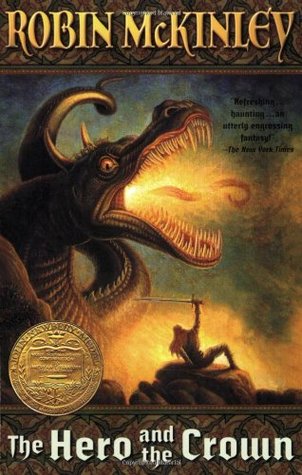 Have you read Ash or any of the titles listed below? Is this a genre/writing style you too enjoy?