Along the Lines of… Dan Brown's The Da Vinici Code is Elizabeth Kostova's The Historian
I recently read both of these books — The Da Vinci Code because I love historical and art mysteries and wanted to give this popular book a try, and The Historian because I bought it on a whim, enticed by the cover and title (I'd like to be some sort of historian when I grow up). Two things surprised me about these books: The Historian is a vampire novel (not a good thing in my book, and not something I would have guessed from the title), and both of these books share a similar writing style and mysterious ambiance. They are even both narrated by the same audiobook narrator, Paul Michael! If you have read one or the other and liked it, I'd recommend giving the other a try!
The Da Vinci Code by Dan Brown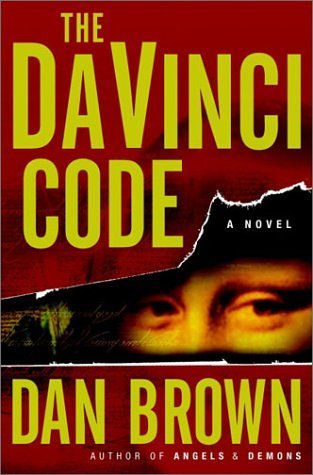 Series: Robert Langdon, Book 2
Genres: Adult, Mystery, Historical, Thriller
Format: Hardcover/Audiobook, narrated by Paul Michael
Rating: 4.5 stars
Rating:
Description: An ingenious code hidden in the works of Leonardo da Vinci. A desperate race through the cathedrals and castles of Europe. An astonishing truth concealed for centuries . . . unveiled at last.
While in Paris, Harvard symbologist Robert Langdon is awakened by a phone call in the dead of the night. The elderly curator of the Louvre has been murdered inside the museum, his body covered in baffling symbols. As Langdon and gifted French cryptologist Sophie Neveu sort through the bizarre riddles, they are stunned to discover a trail of clues hidden in the works of Leonardo da Vinci—clues visible for all to see and yet ingeniously disguised by the painter.
Even more startling, the late curator was involved in the Priory of Sion—a secret society whose members included Sir Isaac Newton, Victor Hugo, and Da Vinci—and he guarded a breathtaking historical secret. Unless Langdon and Neveu can decipher the labyrinthine puzzle—while avoiding the faceless adversary who shadows their every move—the explosive, ancient truth will be lost forever.
Review:
The Da Vinci Code is my ideal blend of mystery, history, adventure, and romance! A super fast-paced, easy, enjoyable read that will keep you up into the early hours of the morning!
For me however, the process took a bit longer due to my amazingly busy life lately. I began by reading this book in print form after finishing Angels and Demons on audiobook…. and abandoned it a month later when I still hadn't finished it. It wasn't that it wasn't a gripping novel, merely that I had no time to read! So finally, I downloaded it off ListenUp Vermont, and finished the audiobook in two days, then immediately downloaded Truth and Fiction in the Da Vinci Code by Bart D. Ehrman (so I can discover all the inaccuracies!), and The Lost Symbol, book three in the Robert Langdon series.
This book is impressively in-depth and well-researched, with a creative design and perfect combination of fiction and historical fact to make it believable yet not too believable to be mistaken for reality. One criticism I can't help making about this series is the fact that the main character, Robert Langdon, can't seem to stick with a one love interest! Each book (at this point I've read The Lost Symbol too) features a single female character that acts as Robert's "sidekick" and inevitably ends as his lover. And they're all different women!
Overall, I had a lot of fun reading this book. Much more than I did when reading the first in the series, Angels and Demons. It's not the best writing I've ever read, and it certainly has many historical inaccuracies and sexist character roles to complain about, but at the end of the day it's just an enjoyable read. I most certainly will be continuing with this series, and will look for other books that are similar!
The Historian by Elizabeth Kostova
Series: None
Genres: Adult, Mystery, Fantasy (Vampires), Thriller
Format: Audiobook, narrated by Paul Michael and Justine Eyre
Rating: 3.5 stars
Description: To you, perceptive reader, I bequeath my history…
Late one night, exploring her father's library, a young woman finds an ancient book and a cache of yellowing letters addressed ominously to 'My dear and unfortunate successor'. Her discovery plunges her into a world she never dreamed of – a labyrinth where the secrets of her father's past and her mother's mysterious fate connect to an evil hidden in the depths of history.
Review:
When I picked this book up at a used book sale, I was drawn by the unique cover and the title of my dream occupation. I skimmed the description, found it sounded interesting, and took it home. Unusually enough, I found the audiobook (I like to read/listen on and off–gets me through a book twice as fast) on ListenUp Vermont the next day, so was able to start reading much sooner than I'd expected.
This book surprised me again when a few chapters in I realized it was a paranormal novel–about vampires no less! I must admit, paranormal is one of my least favorite genres. If I'd known the genre of this book when I first glimpsed it, I would not have picked it up, let alone bought it. I was disappointed, but considering this is a book I wouldn't normally like, The Historian vastly exceeded my expectations. I found that instead of being an overly romantic Twilight-esque book, this one was much more along the lines of The Da Vinci Code, with mystery and adventure that was quite interesting and compelling.
Possibly because I mostly listened to this book, it didn't seem as long as 642 pages appears in printed form. This was a positive since I never got bored with the book… but also had the negative side effect that I expected the story to continue longer than it did, so I was rather disappointed by the anticlimactic and inconclusive resolution.
The daughter's story also fell short of expectations, since it seemed very random and lacking of body and description. Especially because the book begins with the daughter setting up the exposition as a protagonist, I'd expect more of a focus on her later. In addition, I found Barley's character to be extremely unnecessary and undeveloped. The romance in this book seemed very sudden and strange — another disappointment. It would have been better left out entirely.
All in all, while this is not and will never be my favorite book, I don't regret giving it a chance. I know there are many readers out there who enjoy vampire and other paranormal novels more than I do, and for those readers I highly recommend The Historian.