Waiting on Wednesday #15: Illusionarium by Heather Dixon
Waiting on Wednesday is a weekly event hosted at Breaking the Spine that spotlights upcoming releases that we're eagerly anticipating. I created the image above from a photo I took, and any other blog may use it if they link back to Gwen & Kate's Library!
Illusionarium by Heather Dixon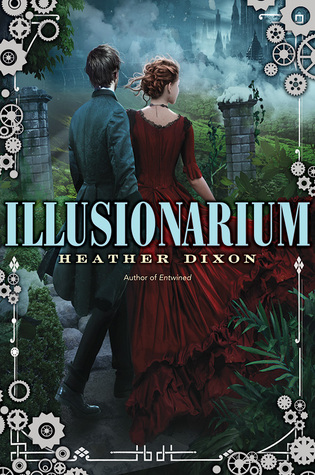 Series: none!
Genres: Young Adult, Fantasy, Steampunk
Description:
From the author of Entwined, a brilliantly conceived adventure through an alternate London. This sweeping, cinematic tale of an apprentice scientist desperate to save his family—and his world—is The Night Circus meets Pixar.
Through richly developed parallel worlds, vivid action, a healthy dose of humor, and gorgeous writing, Heather Dixon spins a story that is breathtaking and wholly original.
Gwen's Comments: I loved Entwined, a re-told fairy tale of the Twelve Dancing Princesses similar to Princess of the Midnight Ball by Jessica Day George, so when I saw that Heather Dixon was publishing another stand-alone, I was very excited. Steampunk is not something I read often, but I like the idea of an alternate London.
Publication Date: May 19th, 2015
Has anyone else read Entwined and looking forward to Heather Dixon's next publication?