Waiting on Wednesday #12: A Court of Thorns and Roses by Sarah J. Maas
Waiting on Wednesday is a weekly event hosted at Breaking the Spine that spotlights upcoming releases that we're eagerly anticipating. I created the image above from a photo I took, and any other blog may use it if they link back to Gwen & Kate's Library!
 A Court of Thorns and Roses by Sarah J. Maas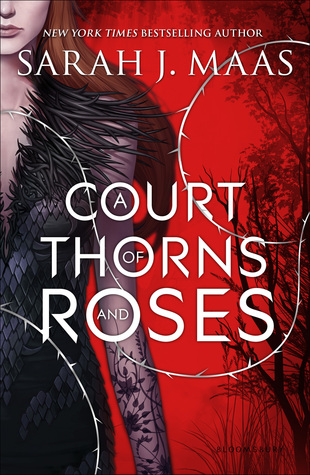 Series: A Court of Thorns and Roses, Book 1
Genres: Young Adult, Fantasy, Re-told Fairy Tales, Romance
Description: When 19-year-old huntress Feyre kills a wolf in the woods, a beast-like creature arrives to demand retribution for it. Dragged to a treacherous magical land she only knows about from legends, Feyre discovers that her captor is not an animal, but Tamlin—one of the lethal, immortal faeries who once ruled their world.
As she dwells on his estate, her feelings for Tamlin transform from icy hostility into a fiery passion that burns through every lie and warning she's been told about the beautiful, dangerous world of the Fae. But an ancient, wicked shadow over the faerie lands is growing, and Feyre must find a way to stop it … or doom Tamlin—and his world—forever.
Gwen's Comments: I just noticed the new cover and description today, so had to publish it as my WOW! A Court of Thorns and Roses has been on my to-read and to-be-released lists for a very long time, and I'm very excited to have more information about it! So to make things clear — it has nothing to do with Throne of Glass (except for the amazing author), but is a re-told fairy tale of Tamlin (like The Perilous Gard by Elizabeth Marie Pope which I did not like very much) and Beauty and the Beast (like Beauty by Robin McKinley which I loved!)
Publication Date: May 5th, 2015
Do you like re-told fairy tales? How do you think Sarah J. Maas will do with this book?