Gwen's Non Fiction Reading List
This summer got me interested in widening my genres to non fiction as well. Of course, in my case that means mostly history books, since that is my passion. Here is a (lengthy) list of my non fiction historical to-read books, which I hope to read sometime in the next ten to twenty years (I'm kind of slow when it comes to non fiction, and I like reading them at the same time as fiction books, which I often turn to first). Many of these I already own, but haven't gotten the chance to read yet (I prefer buying non fiction so I can write in it and go back to it later as a resource). If you have any to recommend, please do not hesitate (I'll read it eventually…)! Enjoy!
Guns, Germs, and Steel: The Fates of Human Societies by Jared Diamond
A global account of the rise of civilization that is also a stunning refutation of ideas of human development based on race.
Until around 11,000 b.c., all peoples were still Stone Age hunter/gatherers. At that point, a great divide occurred in the rates that human societies evolved. In Eurasia, parts of the Americas, and Africa, farming became the prevailing mode of existence when indigenous wild plants and animals were domesticated by prehistoric planters and herders. As Jared Diamond vividly reveals, the very people who gained a head start in producing food would collide with preliterate cultures, shaping the modern world through conquest, displacement, and genocide.
The paths that lead from scattered centers of food to broad bands of settlement had a great deal to do with climate and geography. But how did differences in societies arise? Why weren't native Australians, Americans, or Africans the ones to colonize Europe? Diamond dismantles pernicious racial theories tracing societal differences to biological differences.
He assembles convincing evidence linking germs to domestication of animals, germs that Eurasians then spread in epidemic proportions in their voyages of discovery. In its sweep, Guns, Germs, and Steel encompasses the rise of agriculture, technology, writing, government, and religion, providing a unifying theory of human history as intriguing as the histories of dinosaurs and glaciers.
Gwen's Comment: I learned of this book from my history teacher last year, when we watched the movie and read an excerpt. I loved Jared Diamond's conclusions and his easy prose, and decided to buy it. I'm actually currently on about page 100, having started it at the beginning of the summer. However, I got sidetracked and read some fiction and forgot about it — but it is still firmly on my to-read list, and I loved the part I read!
The Story of Mankind by Hendrik Willem Van Loon
First published in 1921, The Story of Mankind has charmed generations of readers of all ages with its warmth, simplicity, and wisdom. Beginning with the origins of human life and sweeping forward to illuminate all of history, Hendrik van Loon's incomparable prose enlivens the characters and events of every age. His unique ability to convey history as a fascinating tale of adventure has endeared the book to countless readers and has accorded it a unique place in publishing history. This new version, which retains van Loon's original illustrations, has been brought up to date by John Merriman, professor of history at Yale University. It incorporates the most important developments of the last two decades-including space exploration, the emergence of the developing countries, the Cold War, the Internet, and the astounding advances we have witnessed in medicine and science – and looks forward into the prospect of the twenty-first century.
Gwen's Comment: I also learned about this book from the same history teacher, when we read an excerpt about the Crusades. I enjoyed the reading, and when I looked it up in the library and found that it was illustrated and covered all of mankind (up until the early 1900s), I was ecstatic! I bought it, but unfortunately have not had the time to read it yet.
A World Lit Only by Fire by William Manchester
From tales of chivalrous knights to the barbarity of trial by ordeal, no era has been a greater source of awe, horror, and wonder than the Middle Ages. In handsomely crafted prose, and with the grace and authority of his extraordinary gift for narrative history, William Manchester leads us from a civilization tottering on the brink of collapse to the grandeur of its rebirth – the dense explosion of energy that spawned some of history's greatest poets, philosophers, painters, adventurers, and reformers, as well as some of its most spectacular villains – the Renaissance.
Gwen's Comment: I got this book for free from a book sale and in very good condition! I was literally picking up any book that looked interesting, and the words Medieval and Renaissance on the cover were enough. In the following months, I saw it in every bookstore and even on a syllabus for an online class I wanted to take! It seems that my choice to pick it up that day was a good one, because having read the first chapter, it seems very good, and I know I probably would have bought it later on anyway.
The Time Traveler's Guide to Medieval England: A Handbook for Visitors to the Fourteenth Century by Ian Mortimer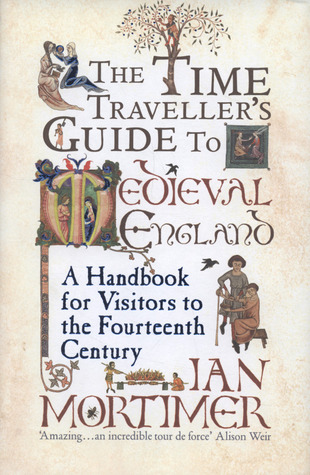 The past is a foreign country. This is your guidebook. Imagine you could get into a time machine and travel back to the fourteenth century. What would you see? What would you smell? More to the point, where are you going to stay? Should you go to a castle or a monastic guest house? And what are you going to eat? What sort of food are you going to be offered by a peasant or a monk or a lord? This radical new approach turns our entire understanding of history upside down. It shows us that the past is not just something to be studied; it is also something to be lived. It sets out to explain what life was like in the most immediate way, through taking you, the reader, to the middle ages, and showing you everything from the horrors of leprosy and war to the ridiculous excesses of roasted larks and haute couture.Being a guidebook, many questions are answered which do not normally occur in traditional history books. How do you greet people in the street? What should you use for toilet paper? How fast – and how safely – can you travel? Why might a physician want to taste your blood? And how do you test to see if you are going down with the plague? The result is the most astonishing social history book you are ever likely to read: revolutionary in its concept, informative and entertaining in its detail, and startling for its portrayal of humanity in an age of violence, exuberance and fear.
Gwen's Comment: I forget how I discovered this book, but ever since it has been firmly on my to-read list. The prose looks engaging, and the time period is one of my favorites! It discussed everything you could want to know about the time in an organized way (I especially love the clothing section). I'd definitely take this with me if I could time travel!
The Time Traveler's Guide to Elizabethan England by Ian Mortimer
We think of Queen Elizabeth I as 'Gloriana': the most powerful English woman in history. We think of her reign (1558-1603) as a golden age of maritime heroes, like Sir Walter Raleigh, Sir Richard Grenville and Sir Francis Drake, and of great writers, such as Edmund Spenser, Christopher Marlowe and William Shakespeare. But what was it actually like to live in Elizabethan England? If you could travel to the past and walk the streets of London in the 1590s, where would you stay? What would you eat? What would you wear? Would you really have a sense of it being a glorious age? And if so, how would that glory sit alongside the vagrants, diseases, violence, sexism and famine of the time? In this book Ian Mortimer answers the key questions that a prospective traveller to late sixteenth-century England would ask. Applying the groundbreaking approach he pioneered in his bestselling Time Traveller's Guide to Medieval England, the Elizabethan world unfolds around the reader. He shows a society making great discoveries and winning military victories and yet at the same time being troubled by its new-found awareness. It is a country in which life expectancy at birth is in the early thirties, people still starve to death and Catholics are persecuted for their faith. Yet it produces some of the finest writing in the English language and some of the most magnificent architecture, and sees Elizabeth's subjects settle in America and circumnavigate the globe. Welcome to a country that is, in all its contradictions, the very crucible of the modern world.
Gwen's Comment: Why not read the other book by this fantastic-looking author? Elizabethan England sounds pretty swell too!
Princesses Behaving Badly: Real Stories from History Without the Fairy-Tale Endings by Linda Rodriguez McRobbie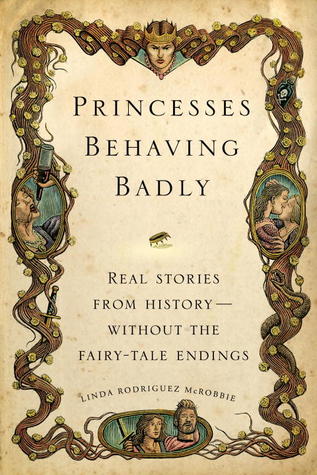 You think you know her story. You've read the Brothers Grimm, you've watched the Disney cartoons, you cheered as these virtuous women lived happily ever after. But the lives of real princesses couldn't be more different. Sure, many were graceful and benevolent leaders—but just as many were ruthless in their quest for power, and all of them had skeletons rattling in their royal closets. Princess Stephanie von Hohenlohe was a Nazi spy. Empress Elizabeth of the Austro-Hungarian empire slept wearing a mask of raw veal. Princess Olga of Kiev murdered thousands of men, and Princess Rani Lakshmibai waged war on the battlefield, charging into combat with her toddler son strapped to her back. Princesses Behaving Badly offers minibiographies of all these princesses and dozens more. It's a fascinating read for history buffs, feminists, and anyone seeking a different kind of bedtime story.
Gwen's Comment: My discovery of this book originates with my fascination with Princess Sophia Dorothea of Celle, ever since I listened to the Stuff You Missed in History Class podcast about her for the first time (now I've listened to that same podcast more than a dozen times). This rather new book has an entire chapter on this fascinating real-life Rapunzel, along with countless other obscure Stuff You Missed in History Class podcast characters, including Lakshmibai, Wu Zetian, Njinga of Ndongo, Roxolana, Princess Caraboo, Elizabeth of Austria, and many, many more. Listen Up! Vermont just acquired it as an audiobook, so that's next on my list!
The Life of Elizabeth I by Alison Weir
Perhaps the most influential sovereign England has ever known, Queen Elizabeth I remained an extremely private person throughout her reign, keeping her own counsel and sharing secrets with no one–not even her closest, most trusted advisers. Now, in this brilliantly researched, fascinating new book, acclaimed biographer Alison Weir shares provocative new interpretations and fresh insights on this enigmatic figure. Against a lavish backdrop of pageantry and passion, intrigue and war, Weir dispels the myths surrounding Elizabeth I and examines the contradictions of her character. Elizabeth I loved the Earl of Leicester, but did she conspire to murder his wife? She called herself the Virgin Queen, but how chaste was she through dozens of liaisons? She never married–was her choice to remain single tied to the chilling fate of her mother, Anne Boleyn? An enthralling epic that is also an amazingly intimate portrait, The Life of Elizabeth I is a mesmerizing, stunning reading experience.
Gwen's Comment: My mom has owned this book for many years, and one day it just became a part of Gwen & Kate's personal Library. I love learning about Elizabeth I, and I have heard from many this is a great biography, so I'd like to give it a try someday.
Queen Elizabeth I by J.E. Neale
For more than fifty years this beautifully written biography has held the field as THE comprehensive study of Elizabeth's entire reign: the wars with Spain and the Spanish Armada; the long-standing struggle with Mary, Queen of Scots; her subtle and resourceful foreign and domestic policies; the abortive marriage projects, plots and court intrigues. Few other books bring so vividly to life men like Darnley and Drake, Essex and Southampton – and the complex and compelling character of the Queen herself. Sir John Neale combines deep learning and pyschological insight with the ability to make extraordinary events clear and accessible; the result is a biography of enduring value to historians and general readers alike.
Gwen's Comment: I'm not sure if I will ever read this book, but it is also one I picked up for free at that book sale. Maybe after I've read Alison Weir's version.
The Discoverers: A History of Man's Search to Know His World and Himself by Daniel J. Boorstin
Perhaps the greatest book by one of our greatest historians, The Discoverers: A History of Man's Search to Know His World & Himself is a volume of sweeping range and majestic interpretation. To call it a history of science is an understatement; this is the story of how humankind has come to know the world, however incompletely ("the eternal mystery of the world," Einstein once said, "is its comprehensibility"). Daniel J. Boorstin first describes the liberating concept of time–"the first grand discovery"–and continues through the age of exploration and the advent of the natural and social sciences. The approach is idiosyncratic, with Boorstin lingering over particular figures and accomplishments rather than rushing on to the next set of names and dates. It's also primarily Western, although Boorstin does ask (and answer) several interesting questions: Why didn't the Chinese "discover" Europe and America? Why didn't the Arabs circumnavigate the planet? His thesis about discovery ultimately turns on what he calls "illusions of knowledge." If we think we know something, then we face an obstacle to innovation. The great discoverers, Boorstin shows, dispel the illusions and reveal something new about the world. Although The Discoverers easily stands on its own, it is technically the first entry in a trilogy that also includes The Creators and The Seekers. An outstanding book–one of the best works of history to be found anywhere.
Gwen's Comment: This book was recommended to me by a family friend, and certainly looks like my kind of thing. The topics discussed within it seem very interesting. Definitely something for the future.
The House at Shelburne Farms by Joe Sherman
This account of the house now adapted to an inn tells of a rare triple treat: architecture of the era of boundless dreams—the so-called Gilded Age; landscape from the visionary mind of America's father of landscape architecture, Frederick Law Olmsted; and a vicarious sense of lifestyle as manifested by a distinctive, wealthy American family, the W. Seward Webbs.
Gwen's Comment: I picked this book up at another book sale (not for free, but probably for 25 cents), which goes in depth about an intriguing building in a nearby town, Shelburne, Vermont. I have done a lot of work at Shelburne Farms, but mainly with the farmyard and nature side of things, not in the historical Webb section of the farms. This book is definitely one I want to read, because it is so relevant to my life.
Mythology by Edith Hamilton
The world-renowned classic that has enthralled and delighted millions of readers with its timeless tales of gods and heroes. Edith Hamilton's Mythology succeeds like no other book in bringing to life for the modern reader the Greek, Roman, and Norse myths that are the keystone of Western culture–the stories of gods and heroes that have inspired human creativity from antiquity to the present. We meet the Greek gods on Olympus and Norse gods in Valhalla. We follow the drama of the Trojan War and the wanderings of Odysseus. We hear the tales of Jason and the Golden Fleece, Cupid and Psyche, and mighty King Midas. We discover the origins of the names of the constellations. And we recognize reference points for countless works of art, literature, and cultural inquiry–from Freud's Oedipus complex to Wagner's Ring Cycle of operas to Eugene O'Neill's Mourning Becomes Electra. Praised throughout the world for its authority and lucidity, Mythology is Edith Hamilton's masterpiece–the standard by which all other books on mythology are measured.
Gwen's Comment: My seventh grade history teacher recommended this book to me, but it is only now, as I am taking a class in Ancient Greece, that I was reminded to pick it up again. It seems like a perfect collection of all the Greek Myths, organized well and written in simpler prose to some other collections.
X-Treme Latin by Henry Beard
In staff meetings and singles bars, on freeways and fairways, there are aggravating people lurking everywhere these days. But bestselling humorist Henry Beard has the perfect comeback for all prickly situations, offering a slew of quips your nemesis won't soon forget . . . or even understand. Beard's gift is his ability to make fun of popular culture and the current zeitgeist. In X-Treme Latin he provides Latin with an attitude, an indispensable phrasebook that taps the secret power of Latin to deliver, in total safety, hundreds of impeccable put-downs, comebacks, and wisecracks. Within its pages you will learn how to insult or fire coworkers; blame corporate scandals on someone else; cheer at a World Wrestling Entertainment match; talk back to your computer, TV, or Game Boy; deal with your road rage; evade threatening situations; snowboard in style; talk like Tony Soprano; and much more. With dozens more zingers for quashing e-mail pranks, psyching out your golf opponent, giving backhanded compliments, and evading awkward questions, X-Treme Latin is destined for magnus popularity and will have readers cheering, "Celebremus!"
Gwen's Comment: As you may well know, I am a complete Latin nerd, and this book seems like the perfect combination of Latin and humor (which is pretty much why I love it so much — I know four verbs for "to kill" but I don't know how to ask what time it is). I realize this doesn't count completely as a non fiction or history book, but it is certainly one I want to purchase and lovingly dog-ear. And who doesn't want to know what Latin phrases to say when participating in small talk during a colonoscopy?
Latin for All Occasions by Henry Beard
With more than 200,000 copies in print, Latin for All Occasions and its follow-up, Latin for Even More Occasions, have helped scores of readers harness the language of Caesar and Cicero. Impress your boss with Occupational Latin (Lingua Latina Occupationi); sell your product with Sales Latin (Lingua Latina Mercatoria); flirt with your classics professor with Sensual Latin (Lingua Latina Libidinosa); look like the hipster you are with Pop-Cultural Latin (Lingua Latina Popularis); survive the holidays with Familial Latin (Lingua Latina Domestica) and Celebrational Latin (Lingua Latina Festiva). It's all here, whether you're a student of the language or just want to talk like one. From cocktail-party banter to climbing the corporate ladder to online dating, Latin for All Occasions features dozens of handy sections, including Las Vegas Latin, Latin for Golfers, Latin for Breakups, Latin for the Politically Correct, and much, much more. In one easy-to-use volume, National Lampoon founder Henry Beard presents hundreds of listings rendered in grammatically accurate classical Latin, with a foolproof pronunciation guide. Who says Latin is a dead language? From the comic genius who brought us X-Treme Latin comes Latin for All Occasions, guaranteed to help readers delight their friends, insult their enemies, and elevate the public discourse.
Gwen's Comment: When the first words you learn in Latin class are slave, work, and master, you need a book on the side that will teach you how to say things like "Run into much traffic on the way over?" and "You know what I think? I think that Elvis is still alive!"
The Cartoon History of the Modern World by Larry Gonick
The Cartoon History of the Modern World is a wickedly funny take on modern history. It is essentially a complete and up–to–date course in college level Modern World History, but presented as a graphic novel. In an engaging and humorous graphic style, Larry Gonick covers the history, personalities and big topics that have shaped our universe over the past five centuries, including the Industrial Revolution, the American Revolution, the Russian Revolution, the evolution of political, social, economic, and scientific thought, Communism, Fascism, Nazism, the Cold War, Globalization––and much more. Volume I of the Cartoon History of the Modern World picks up from Gonick's award winning Cartoon History of the Universe Series. That series began with the Big Bang and ended with Christopher Columbus sailing for the New World. This book starts off with peoples that Columbus "discovered" and ends with the U.S. Revolution
Gwen's Comment: This book was introduced to me through my history class this year (it's always the history teacher!). Larry Gonick's collection of cartoon history books all look interesting, and his The Cartoon History of the Universe set and The Cartoon History of the United States are also on my to-read list. I love how he combines cartoons, humor, and accurate (but simplified) history into one interesting to read book!
Moonwalking with Einstein: The Art and Science of Remembering Everything by Joshua Foer
An instant bestseller that is poised to become a classic, Moonwalking with Einstein recounts Joshua Foer's yearlong quest to improve his memory under the tutelage of top "mental athletes." He draws on cutting-edge research, a surprising cultural history of remembering, and venerable tricks of the mentalist's trade to transform our understanding of human memory. From the United States Memory Championship to deep within the author's own mind, this is an electrifying work of journalism that reminds us that, in every way that matters, we are the sum of our memories.
Gwen's Comment: I'm actually listening to this book right now on audiobook, and loving it! My best friend Lydia recommended it to me ages ago when we were talking about Sherlock's mind palace (from the TV show Sherlock), and how it is actually a "thing." This book not only drops cool mind tricks, but tells the history of the art of remembering, and the memoir of Josh's mental athlete training.
Have you read any of these? What do you think of non fiction as a genre?