Waiting on Wednesday #10: Mark of the Thief by Jennifer A. Nielsen (by Kate!)
Waiting on Wednesday is a weekly event hosted at Breaking the Spine that spotlights upcoming releases that we're eagerly anticipating. I created the image above from a photo I took, and any other blog may use it if they link back to Gwen & Kate's Library!
Mark of the Thief by Jennifer A. Nielsen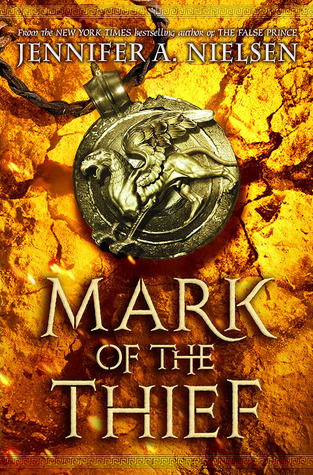 Series: Mark of the Thief, Book 1
Genres: Young Adult (Middle Grade?), Fantasy, Historical Fiction, Adventure
Description:
When Nic, a slave in the mines outside of Rome, is forced to enter a sealed cavern containing the lost treasures of Julius Caesar, he finds much more than gold and gemstones: He discovers an ancient bulla, an amulet that belonged to the great Caesar and is filled with a magic once reserved for the Gods — magic some Romans would kill for.
Now, with the deadly power of the bulla pulsing through his veins, Nic is determined to become free. But instead, he finds himself at the center of a ruthless conspiracy to overthrow the emperor and spark the Praetor War, a battle to destroy Rome from within. Traitors and spies lurk at every turn, each more desperate than the next to use Nic's newfound powers for their own dark purposes.
In a quest to stop the rebellion, save Rome, and secure his own freedom, Nic must harness the magic within himself and defeat the empire's most powerful and savage leaders.
Kate's Comments: Jennifer A. Nielsen is a fantastic author — the one who wrote The False Prince series. I'm excited for her next release, especially since it takes place in Rome!
Publication Date: February 24th, 2015
Anyone else looking forward to this release? Did you like The False Prince series?