Waiting on Wednesday #9: Fairest by Marissa Meyer
Waiting on Wednesday is a weekly event hosted at Breaking the Spine that spotlights upcoming releases that we're eagerly anticipating. I created the image above from a photo I took, and any other blog may use it if they link back to Gwen & Kate's Library!
Fairest by Marissa Meyer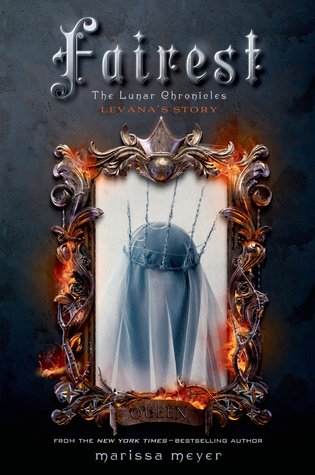 Series: The Lunar Chronicles, Book 3.5
Genres: Young Adult, Science Fiction, Retold Fairy Tale, Romance
Description:
In this stunning bridge book between Cress and Winter in the bestselling Lunar Chronicles, Queen Levana's story is finally told.
Mirror, mirror on the wall,
Who is the fairest of them all?
Fans of the Lunar Chronicles know Queen Levana as a ruler who uses her "glamour" to gain power. But long before she crossed paths with Cinder, Scarlet, and Cress, Levana lived a very different story – a story that has never been told . . . until now.
Marissa Meyer spins yet another unforgettable tale about love and war, deceit and death. This extraordinary book includes full-color art and an excerpt from Winter, the next book in the Lunar Chronicles series.
Gwen's Comments: I was originally going to publish this post as a WOW for Winter, the fourth book in the series, but the lack of information made that difficult. Instead, I discovered that Fairest, book 3.5 in the series, is not the short story novella I was expecting. Unlike Glitches, The Queen's Army, and The Little Android (which are all accessible free online to read, but I never bothered with), Fairest is 256 pages (instead of 20), and more of an actual novel. Although I'm a little disappointed the cover doesn't match entirely (its beautiful, but a little too complicated compared to the others), I am very excited for the release of this book.
Publication Date: January 27th, 2015
What are your opinions on novellas — do you read the short online ones, or only the longer companion ones like I do? If you're a fan of the Lunar Chronicles, will you read this book or just the main novels?