Waiting on Wednesday #6: The Forgotten Sisters by Shannon Hale
Waiting on Wednesday is a weekly event hosted at Breaking the Spine that spotlights upcoming releases that we're eagerly anticipating. I created the image above from a photo I took, and any other blog may use it if they link back to Gwen & Kate's Library!
The Forgotten Sisters by Shannon Hale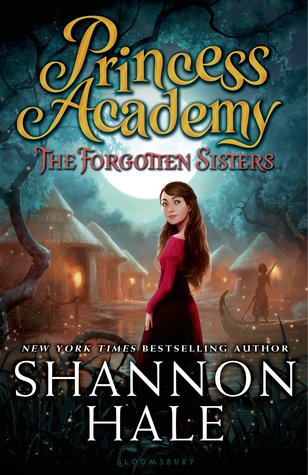 Series: Princess Academy, Book 3!
Genres: Young Adult/Middle Grade, Fantasy, Romance
Description: After a year at the king's palace, Miri has learned all about being a proper princess. But the tables turn when the student must become the teacher! Instead of returning to her beloved Mount Eskel, Miri is ordered to journey to a distant swamp and start a princess academy for three sisters, cousins of the royal family. Unfortunately, Astrid, Felissa, and Sus are more interested in hunting and fishing than becoming princesses. As Miri spends more time with the sisters, she realizes the king and queen's interest in them hides a long-buried secret. She must rely on her own strength and intelligence to unravel the mystery, protect the girls, complete her assignment, and finally make her way home. Fans of Shannon Hale won't want to miss this gorgeously woven return to this best-selling, award-winning series.
Gwen's Comment: A third book!! But why oh why does the cover not match? It is a nice cover (anyone else think Miri looks a bit like the actress Sarah Bolger?), but it looks nothing like the others and makes it seem like it has a much younger audience. I'm hoping they'll come out with another edition. I can't wait for this publication, because although I thought that the first book could stand alone, and the second one wasn't as good (and the fact that it is a middle book could explain that), its ending did leave you needing another!
Publication Date: March 3rd, 2015
What are your thoughts on this upcoming book, or Shannon Hale's other titles?