Waiting on Wednesday #4: Illusions of Fate by Kiersten White
Waiting on Wednesday is a weekly event hosted at Breaking the Spine that spotlights upcoming releases that we're eagerly anticipating. I created the image above from a photo I took, and any other blog may use it if they link back to Gwen & Kate's Library!
Illusions of Fate by Kiersten White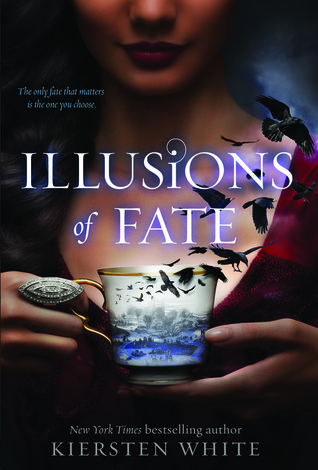 Series: None
Genres: Young Adult, Historical Fiction, Fantasy, Romance
Description: Downton Abbey meets Cassandra Clare in this lush, romantic fantasy from New York Times bestselling author Kiersten White. "I did my best to keep you from crossing paths with this world. And I shall do my best to protect you now that you have." Jessamin has been an outcast since she moved from her island home of Melei to the dreary country of Albion. Everything changes when she meets Finn, a gorgeous, enigmatic young lord who introduces her to the secret world of Albion's nobility, a world that has everything Jessamin doesn't—power, money, status…and magic. But Finn has secrets of his own, dangerous secrets that the vicious Lord Downpike will do anything to possess. Unless Jessamin, armed only with her wits and her determination, can stop him. Kiersten White captured readers' hearts with her New York Times bestselling Paranormalcy trilogy and its effortless mix of magic and real-world teenage humor. She returns to that winning combination of wit, charm, and enchantment in Illusions of Fate, a sparkling and romantic new novel perfect for fans of Cassandra Clare, The Madman's Daughter, and Libba Bray.
Gwen's Comment: Although I don't know too much about this book, since I haven't read any of the author's other books, Illusions of Fate is all my favorite genres, so it looks good! Also, I've seen it highlighted on Goodreads and many blogs I follow, which is where I get most of my book recommendations.
Publication Date: September 9th, 2014
Any other books publishing super soon (next week!) you can't wait for? How do you get your new releases (Amazon, library, local bookstore, chain bookstore, as an ARC, etc.)?