Gwen & Kate's Library: Recent Additions to the Shelves!
I'm attempting a new thing: our own version of a book haul, or stacking the shelves, or whatever you want to call a huge stack of new books recently purchased or borrowed and ready to read! I'm going to keep this list to only books we recently bought for our library collection, since any books borrowed from the many other libraries Kate and I visit would be too lengthy to blog about! Some of these books I have read before and bought because I loved them so much I wanted them for the library collection, and some I bought because no library nearby had them yet.
New Fiction: 
Eon by Alison Goodman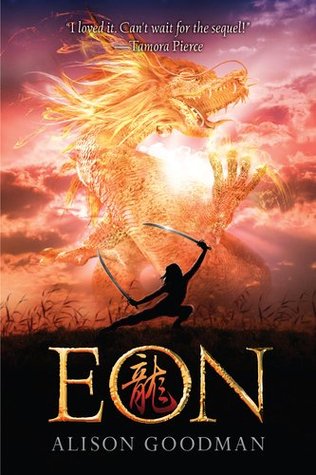 Also Known As: Two Pearls of Wisdom, Eon: Rise of the Dragoneye, and Eon (All the same book just published with different publishers). Swordplay, dragon magic–and a hero with a desperate secret. Twelve-year-old Eon has been in training for years. His intensive study of Dragon Magic, based on East Asian astrology, involves two kinds of skills: sword-work and magical aptitude. He and his master hope that he will be chosen as a Dragoneye–an apprentice to one of the twelve energy dragons of good fortune. But Eon has a dangerous secret. He is actually Eona, a sixteen-year-old girl who has been masquerading as a boy for the chance to become a Dragoneye. Females are forbidden to use Dragon Magic; if anyone discovers she has been hiding in plain sight, her death is assured. When Eon's secret threatens to come to light, she and her allies are plunged into grave danger and a deadly struggle for the Imperial throne. Eon must find the strength and inner power to battle those who want to take her magic…and her life.
Paperback edition, purchased on Amazon.
The Ring and the Crown by Melissa de la Cruz
Princess Marie-Victoria, heir to the Lily Throne, and Aelwyn Myrddn, bastard daughter of the Mage of England, grew up together. But who will rule, and who will serve? Quiet and gentle, Marie has never lived up to the ambitions of her mother, Queen Eleanor the Second, Supreme Ruler of the Franco-British Empire. With the help of her Head Merlin, Emrys, Eleanor has maintained her stranglehold on the world's only source of magic. She rules the most powerful empire the world has ever seen. But even with the aid of Emrys' magic, Eleanor's extended lifespan is nearing its end. The princess must marry and produce an heir or the Empire will be vulnerable to its greatest enemy, Prussia. The two kingdoms must unite to end the war, and the only solution is a match between Marie and Prince Leopold VII, heir to the Prussian throne. But Marie has always loved Gill, her childhood friend and soldier of the Queen's Guard. Together, Marie and Aelwyn, a powerful magician in her own right, come up with a plan. Aelwyn will take on Marie's face, allowing the princess to escape with Gill and live the quiet life she's always wanted. And Aelwyn will get what she's always dreamed of–the chance to rule. But the court intrigue and hunger for power in Lenoran England run deeper than anyone could imagine. In the end, there is only rule that matters in Eleanor's court: trust no one.
Hardcover edition, purchased on Amazon.
Used Fiction: 
Shadow and Bone by Leigh Bardugo
The Shadow Fold, a swathe of impenetrable darkness, crawling with monsters that feast on human flesh, is slowly destroying the once-great nation of Ravka. Alina, a pale, lonely orphan, discovers a unique power that thrusts her into the lavish world of the kingdom's magical elite—the Grisha. Could she be the key to unravelling the dark fabric of the Shadow Fold and setting Ravka free? The Darkling, a creature of seductive charm and terrifying power, leader of the Grisha. If Alina is to fulfill her destiny, she must discover how to unlock her gift and face up to her dangerous attraction to him. But what of Mal, Alina's childhood best friend? As Alina contemplates her dazzling new future, why can't she ever quite forget him? Glorious. Epic. Irresistible. Romance.
Paperback edition, purchased at a used bookstore.
Poison Study by Maria V. Snyder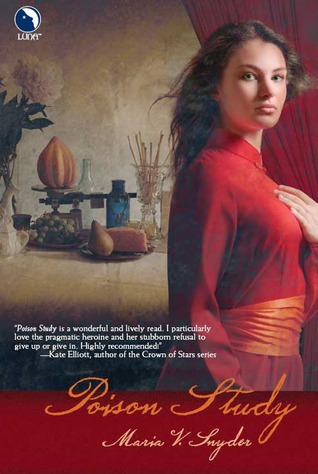 Choose: A quick death…Or slow poison… About to be executed for murder, Yelena is offered an extraordinary reprieve. She'll eat the best meals, have rooms in the palace—and risk assassination by anyone trying to kill the Commander of Ixia. And so Yelena chooses to become a food taster. But the chief of security, leaving nothing to chance, deliberately feeds her Butterfly's Dust—and only by appearing for her daily antidote will she delay an agonizing death from the poison. As Yelena tries to escape her new dilemma, disasters keep mounting. Rebels plot to seize Ixia and Yelena develops magical powers she can't control. Her life is threatened again and choices must be made. But this time the outcomes aren't so clear…
Hardcover edition, purchased used on Amazon.
Summers at Castle Auburn by Sharon Shinn
As a child, Coriel Halsing spent many glorious summers at Castle Auburn with her half-sister-and fell in love with a handsome prince who could never be hers. But now that she is a young woman, she begins to see the dark side of this magical place…
Paperback edition, purchased used on Amazon.
The Thirteenth Tale by Diane Setterfield
Biographer Margaret Lea returns one night to her apartment above her father's antiquarian bookshop. On her steps she finds a letter. It is a hand-written request from one of Britain's most prolific and well-loved novelists. Vida Winter, gravely ill, wants to recount her life story before it is too late, and she wants Margaret to be the one to capture her history. The request takes Margaret by surprise — she doesn't know the author, nor has she read any of Miss Winter's dozens of novels. Late one night while pondering whether to accept the task of recording Miss Winter's personal story, Margaret begins to read her father's rare copy of Miss Winter's Thirteen Tales of Change and Desperation. She is spellbound by the stories and confused when she realizes the book only contains twelve stories. Where is the thirteenth tale? Intrigued, Margaret agrees to meet Miss Winter and act as her biographer. As Vida Winter unfolds her story, she shares with Margaret the dark family secrets that she has long kept hidden as she remembers her days at Angelfield, the now burnt-out estate that was her childhood home. Margaret carefully records Miss Winter's account and finds herself more and more deeply immersed in the strange and troubling story. Both women will have to confront their pasts and the weight of family secrets… and the ghosts that haunt them still.
Hardcover edition, purchased at a used bookstore.
A Matter of Magic by Patricia C. Wrede
When a stranger offers her a small fortune to break into a traveling magician's wagon, Kim doesn't hesitate. Having grown up a waif in the dirty streets of London, Kim isn't above a bit of breaking-and-entering. A hard life and lean times have schooled her in one lesson: steal from them before they steal from you. But when the magician catches her in the act, Kim thinks she's done for. Until he suggests she become his apprentice; then the real trouble begins. Kim soon finds herself entangled with murderers, thieves, and cloak-and-dagger politics, all while trying to learn how to become both a proper lady and a magician in her own right. Magic and intrigue go hand in hand inMairelon the Magician and The Magician's Ward, two fast-paced novels filled with mystery and romance, set against the intricate backdrop of Regency England.
Paperback edition, purchased at a used bookstore.
Used Non Fiction:
The Story of Mankind by Hendrik Willem van Loon
First published in 1921, The Story of Mankind has charmed generations of readers of all ages with its warmth, simplicity, and wisdom. Beginning with the origins of human life and sweeping forward to illuminate all of history, Hendrik van Loon's incomparable prose enlivens the characters and events of every age. His unique ability to convey history as a fascinating tale of adventure has endeared the book to countless readers and has accorded it a unique place in publishing history. This new version, which retains van Loon's original illustrations, has been brought up to date by John Merriman, professor of history at Yale University. It incorporates the most important developments of the last two decades-including space exploration, the emergence of the developing countries, the Cold War, the Internet, and the astounding advances we have witnessed in medicine and science – and looks forward into the prospect of the twenty-first century.
Paperback edition, purchased used on Amazon.
Personalities and Problems: Interpretive Essays in World Civilizations, Volume 1 by Ken Wolf
A collection of original essays about real people whose lives or careers demonstrate solutions to problems of their times. Each chapter of this work focuses on a problem or issue, and illustrates it by discussing the lives of two historical figures whose careers illustrate the richness and variety of history.
Paperback edition, purchased used on Amazon.